Select Scoop - February 2020
Hi there,
Wow! What an amazing start to the new year! I've seen huge growth in demand and I'm thrilled that so many Kiwis are catching on to our Alpha Wolf range.
Great Summer in Northland
My family and I took a break in early January and went off-grid in one of our 26DBH bunkhouses. We had an amazing time at the beautiful Uretiti DOC site, just south of Whangarei.
The distinctive Alpha Wolf attracted a lot of interest from fellow campers, with many keen take a closer look. Personally, it was great to experience the ins and outs of this model, first-hand. The 500W solar system meant we were able to fully stock the 204L fridge/freezer before we left Auckland (ice-cream on arrival!) and it kept us fully-powered for 10 nights!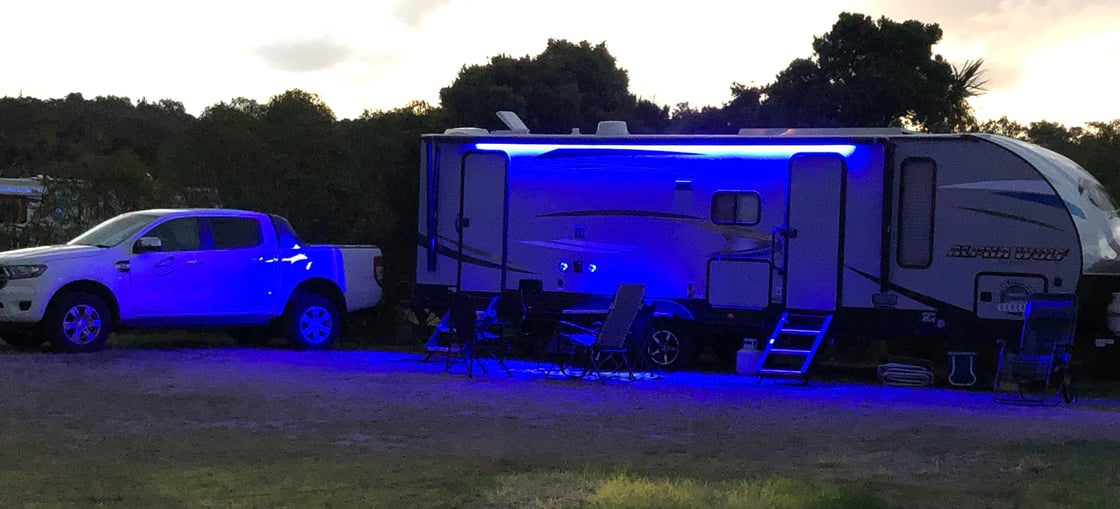 We're now selling this unit with only 11 days use - still very very new! See an amazing offer we have made to all our subscribers at the bottom of this email - SAVE $10,500!
Caravan of the Month - Alpha Wolf 27RK 4+ Berth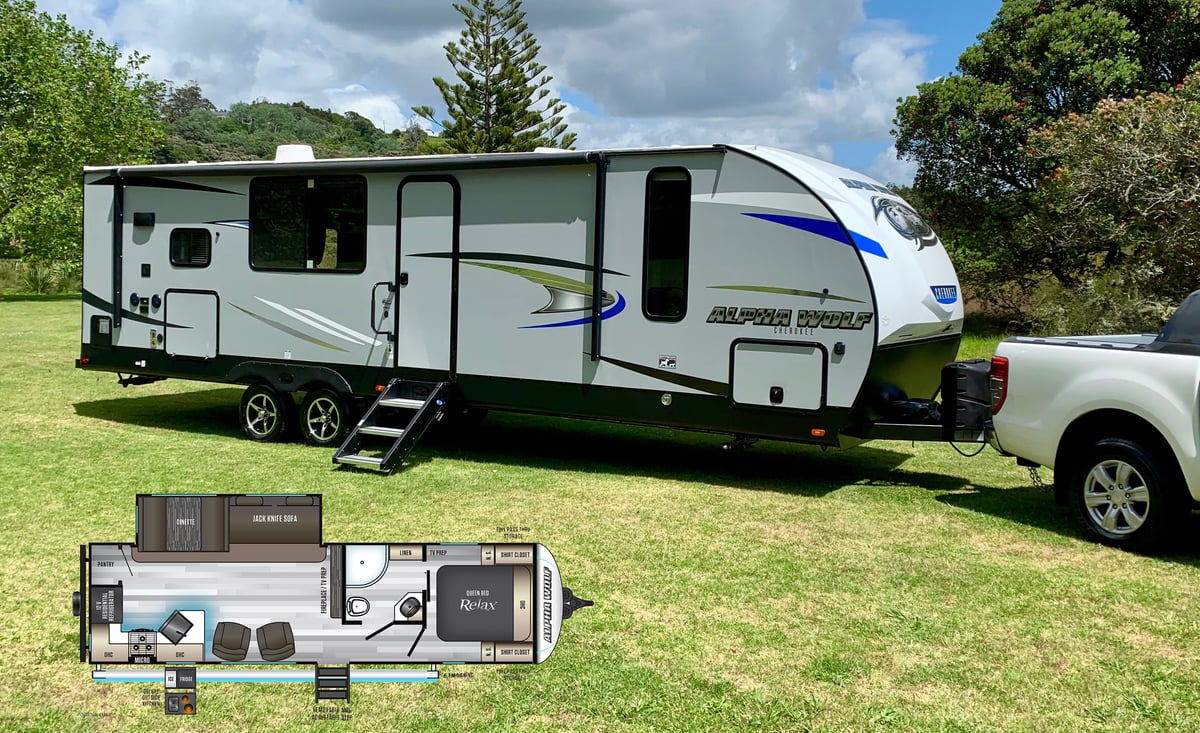 The 27RK is a 10.2m (33' 6") ultra lightweight laminated caravan with slide-out expansion, encompassing dinette and sofa. It also features a rear, fully equipped kitchen with plenty of space including a floor to ceiling pantry, walk-through ensuite bathroom and a large Master bedroom! At just a fraction longer than our other best-sellers, this unit makes impressive use of the extra space. Key Features:
4+ berth
Large rear kitchen with plenty of bench space
Ensuite bathroom with full corner glass shower
Massive lounge including 2 movable recliner chairs and 3 seater sofa
10.2m (hitch to bumper) - body length is 8.9m
Tare: 2782 kg
Cargo capacity: 667 kg
GVM: 3,459 kg (only requires a WOF)
Book to view today - or see it at the Covi Supershow in Auckland 13-15 March.
Independent Refit & Certification
We take pride in the fact that all refit and certification is undertaken independently, right here in New Zealand. We don't take any shortcuts when converting our caravans to meet all New Zealand regulations and standards. Read our points of difference below!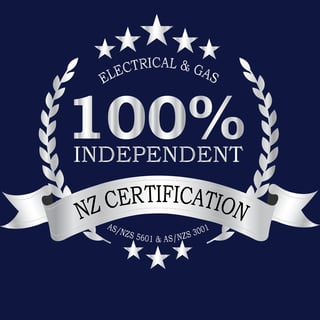 All our caravans and 5th wheels are re-fitted by local tradesmen right here in New Zealand, to comply with our strict gas and electrical standards.
All our caravans are separately certified by independent authorities ensuring that every caravan meets all New Zealand regulations.
All major appliances are sourced from New Zealand suppliers with warranties backed by New Zealand companies.
What's more, we offer Peace of Mind Tow Away Prices which include 12-months registration, WOF, all electrical, gas and self-containment certification, 2 x filled 9kg LPG tanks, and of course GST.

Covi Supershow
Come see us at stand #OS14 at the Covi Supershow in Auckland, 13-15 March. We'll have a 27RK and a 23RD on display, as well as plenty of information and show specials on all of our models. 127pd46
Ex demo Alpha Wolf 26DBH for $87,000* incl GST
2019 model only - 9.6m (31' 6") 8+ berth including 500W Solar - SAVE $10,500
This near new 2019 Alpha Wolf 26DBH (Bunkhouse), is a 9.6m caravan equipped with all our standard features AND 500W of solar power, valued at $2,500.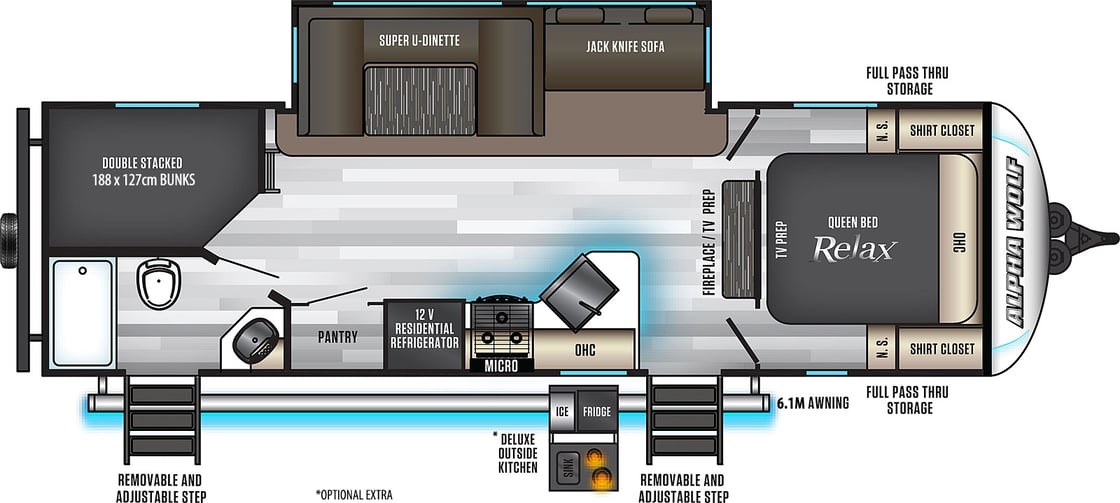 Don't miss out, contact me today to secure this Sensational Special!
We've got just one ex-demo 2019 model left. This caravan must go - I have more 2020 stock arriving soon and need the space. *Offer valid until caravan is sold - only 1 available at this price.
Sincerely,
David Sharp
Founder & Owner
Select Caravans Limited
.
---